Want Smarkets 0% Commission? Here's How To Get It AND Keep It
Smarkets 0% Commission: Instant Access For New Customers
SIGNUP TO SMARKETS: 0% COMMISSION FOR 60 DAYS
Betting exchanges are essential in Matched Betting. 

Why?

Because they provide you with the ability to cover all outcomes of a bet. This is the key to how you can profit, no matter what happens in the game or race you've bet on.
Betting exchanges make money by charging their customers a percentage commission on their bets. It's usually between 2-5%.
Or, you could pay ABSOLUTELY NO COMMISSION on your exchange bets and give away NONE of your Matched Betting profits by taking advantage of this new customer offer for 0% commission for 60 days at Smarkets Betting Exchange. (T&Cs apply).

SIGN UP TO SMARKETS & GET 0% COMMISSION FOR 60 DAYS
Keeping Your 0% Commission At Smarkets Beyond 60 Days
If you would like to keep your Smarkets 0% commission after the first 60 days of opening your account you can do so by following the 5-step instructions below.

---
Already Have Smarkets? 5 Steps To Get 0% Commission
Already a member of Outplayed AND have an existing Smarkets account? Skip to step 2!
Step 1: Join Outplayed
As soon as you've joined Outplayed as a Platinum or Diamond member you can get access to 0% Commission at Smarkets regardless if you have an account with them already or not.

As long as you remain a full member of Outplayed you can then get access to 0% commission at Smarkets on a continuous basis. All you have to do is place a bet at Smarkets every 30 days via the Outplayed Oddsmatcher integration. You can follow the steps below to do this. 
Step 2:  Opt-in For 0% Commission
Opt-in to the offer ONCE by entering your Smarkets email address using THIS SPECIAL LINK

Step 3: Choose A Bookmaker Offer To Profit From
In your Outplayed Offers Hub choose a bookmaker offer you'd like to profit from.

If you've just started we'd recommend choosing a simple Bet £X and Get £X Free type of signup offer. If you haven't done the Coral or Betfred Signup Offers they are the best to start with.

If you've completed most of the bookmaker signup offers, we'd recommend choosing an easy Bet & Get bookmaker existing customer offer (or reload offer).  

Proceed to the point in the offer where you choose a suitable Matched Bet from the Oddsmatcher.
Step 4: Use the Oddsmatcher Smarkets Integration To Place Your Lay Bet
On your chosen Matched Bet, open the integrated Matched Betting calculator. This is done by clicking the small S next to the Smarkets logo on your selected Matched Bet.

A pop-up window will appear and you must then make sure that your Smarkets account is linked and that you are logged in. If successfully linked you will see the special 'Smarkets Integration Calculator' in this pop-up window.
You then need to complete an integrated bet by confirming the details of your Matched Bet, placing your back bet as you would normally at the bookmaker and then clicking the LAY THE BET button on the integration calculator. This button will automatically place your lay bet for you at Smarkets via Outplayed.

If the integration bet is placed successfully, you will then activate your 0% commission.

Smarkets normally email to confirm when you have successfully activated the 0% commission (this can sometimes take a while to come through after placing your integrated bet). You can also check if it's activated a few minutes after placing your integrated lay bet via your Smarkets account under the account menu section 'Trading Stats and Commissions'.
Smarkets 0% Commission Confirmation .png
You can see more information about how to use the integration on the Oddsmatching Tool here.
Step 5: Place At Least One Integrated Bet Every 30 Days
Placing lay bets via the Oddsmatcher integration should become second nature to you and we would recommend using the tool as it is designed to reduce the likelihood of human error when placing your lay bets AND makes your Matched Betting faster. Doing so will also ensure you continue to automatically be eligible to receive 0% commission at Smarkets as long as the offer is available.

If you prefer to place your lay bets manually in Smarkest, in order to continue to be eligible to receive your 0% commission through your Outplayed membership you must place at least ONE lay bet through the integration every 30 days. 

---
Smarkets 0% Commission Key Terms
General Terms
Both back and lay bets are included
There are no odds restrictions
Bets must be placed and settled within the promotional period
There are no betting restrictions in regard to ante-post markets, or withdrawal restrictions outside the normal Smarkets terms.
Customers who access Smarkets through any non-Outplayed API or trading software will be ineligible for this offer.
Full Smarkets 0% terms available here.
Additional Terms For Outplayed Members In Order To Keep Their 0% Commission
Outplayed Platinum and Diamond members can currently get 0% commission on their existing Smarkets accounts until 29th APRIL 2023.

Smarkets have been running their 0% offer with Outplayed for nearly 5 consecutive years. Smarkets usually announce extensions just a few days before each expiry date. 

You must have an active Platinum or Diamond Outplayed subscription to be able to access the Smarkets 0% commission offer.

---
Why Smarkets 0% Commission Is A MUST HAVE In Matched Betting
A 0% commission at Smarkets instead of a 2% commission may not sound like very much but it absolutely is!
This small change in commission can massively increase our profits when Matched Betting, no matter if you're placing just 10-20 Matched Bets a week or 100s of Matched Bets a week.
How Does A 0% Betting Exchange Commission Help Increase Matched Betting Profits?
If we consider the Sky Bet weekly club reload offer, Bet £25 Get a £5 Free Bet, we can see very quickly how beneficial having 0% commission at Smarkets is to our Matched Betting profits.
For an average £25 Qualifying Bet on Sky Bet on a popular Premier League game we'd expect a qualifying loss of around £1 (especially if we were keen to keep our account healthy and make long-term profits at Sky Bet).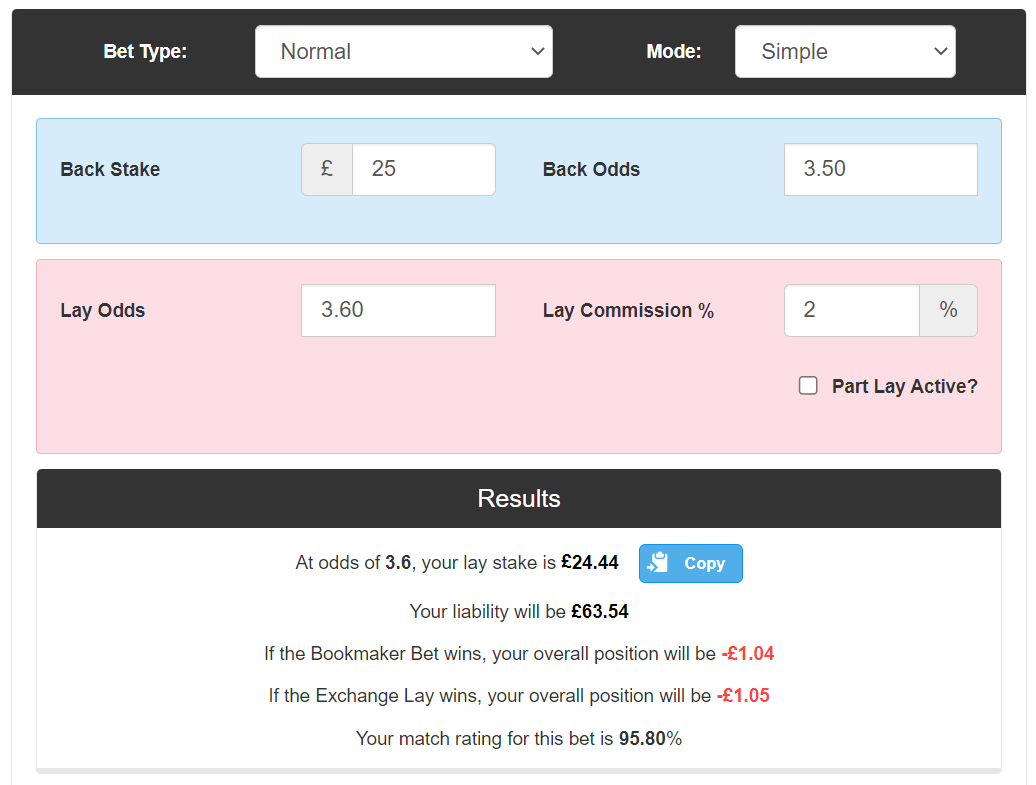 With 0% commission at Smarkets this £1 qualifying loss is reduced by 30p to just 70p.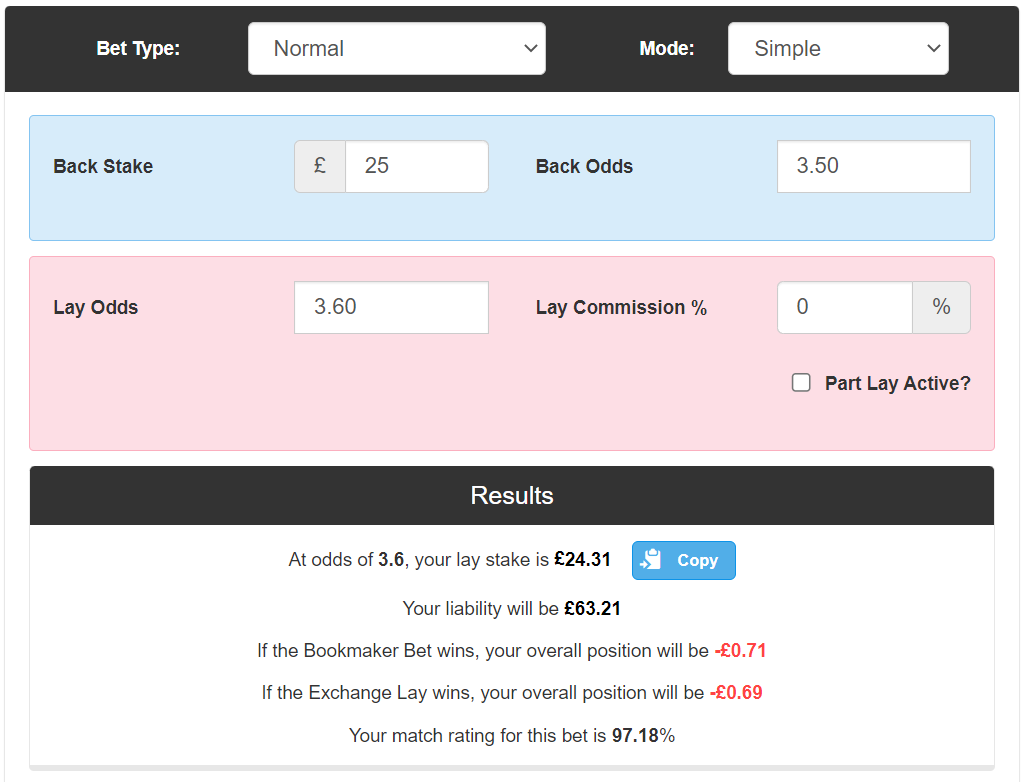 We can take advantage of this reload offer every single week on Sky Bet. Over an entire year a 30p saving every single week works out to a total saving on our Matched Betting profits of £15.60.
(We're using a year as an example as many of us who have been Matched Betting for sometime already have already had access to this offer for at least a year now!).
The benefits don't just stop there though; let's consider how the 0% commission helps our profits on the Free Bet too.
Normally we'd try to aim for a 75-80% profit extraction from our free bet, which with a 2% commission would bag us around £3.75 in profit.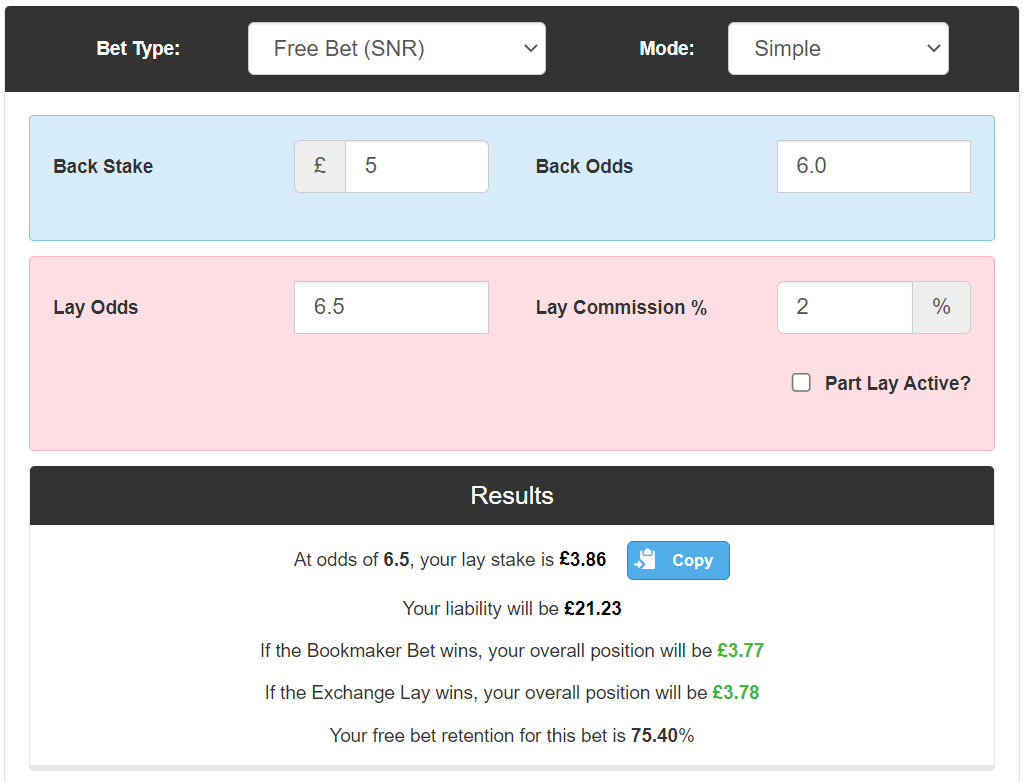 With a 0% commission we can make roughly 10p more with our free bet, so around £3.85.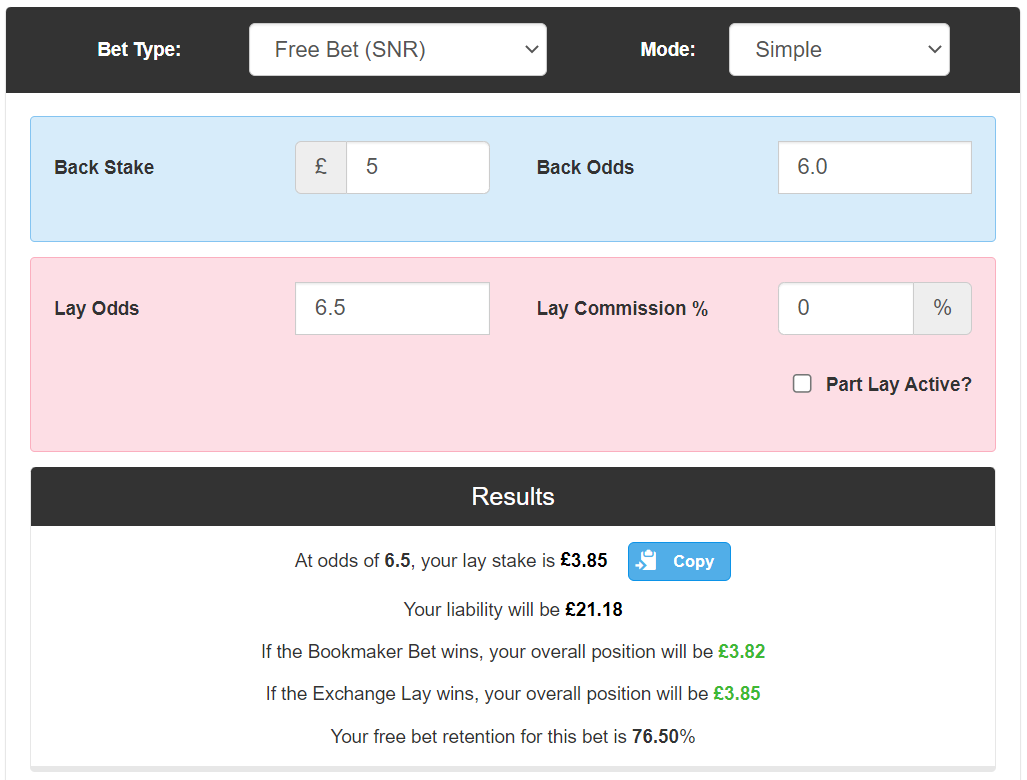 Over the entire year 10p extra on our profits every single week works out to an extra £5.20 in profits for us.

Altogether, this means using a 0% commission ONLY on the Sky Bet weekly club offer will get us around £20 in extra profits by the end of the year.

This is just an extra £20 from one single reload offer that's available to us!
Multiply this now by the ton of reload offers we have available to us every week as members of Outplayed and even those members who just have time to complete a few reload offers each week will easily be making an extra £150 to £200 a year in profits – and likely more!
Those spending a good deal of their time Matched Betting and regularly completing more advanced reload offers such as the 2up early payout offers, the horse racing refund offers and the horse racing extra place offers, will probably end up with at least £1000 a year in additional profits thanks to this Smarkets offer.
Long-story short is that this Smarkets 0% commission offer is awesome and definitely one not to be missed for anyone that is Matched Betting!
Read more about arbitrage betting UK, oddsmatcher tool, matched betting casino offers and betting hedge calculator

---
Need A Helping Hand Getting Your Smarkets 0% Deal?
JOIN OUR EPIC FACEBOOK COMMUNITY
Our Facebook Group, which has over 50,000 members, is a great place to ask for help and ask questions, especially if you are new to Matched Betting or using the Smarkets 0% commission. Our community forum is also a great place to ask for help if you're a Platinum or Diamond member.
Alternatively you can also contact us directly for support too.
---
Did You Know You Can Start Matched Betting For FREE?
Learn the basics of Matched Betting and make up to £40 in profit with our FREE TRIAL. You only need your email address to register. 
TRY MATCHED BETTING FREE