Matched Betting Extra Places (Part 3): Tips for Beginners
If you haven't already we recommend reading the following two articles before starting this one:
Matched Betting Extra Places Offers Part 1 – The Basics
(This part of our guide covers what Extra Place Offers are, each-way betting (backing and laying) and how we make money Matched Betting Extra Place Offers).
GO TO EXTRA PLACES PART 1
Matched Betting Extra Place Offers Part 2 – Example Walk-through
(This part of our guide explains about the Extra Place Catcher which is an essential tool required for profiting from Extra Place Offers. A full example of doing an Extra Place Offer using the Catcher is then provided).
GO TO EXTRA PLACES PART 2
In this article, Part 3 of our Matched Betting Extra Place Offers guide, we provide ten top tips for those interested in starting Extra Place Offers.
Finally, in Part 4 of our guide we discuss different strategies for tackling Extra Place Offers and provide a full list of useful tools and resources available to our Platinum and Diamond Members.
GO TO EXTRA PLACES PART 4
---
Top 10 Tips for Getting Started Matched Betting Extra Places
As we mentioned before in Part 2 there are no hard and fast rules when it comes to making money from Extra Place Offers with Matched Betting.
These tips are therefore just suggested as a starting point for beginners to build on. We'd expect that as you progress with Extra Place Offers that you will end up deviating from some of these tips as you refine your own personal strategy and approach that suits your level of experience, time schedule and bankroll.
Some of these tips can also just go completely out the window when the odds just refuse to move in our favour on certain races on the Extra Place Catcher too – it's just one of those things!
Tip 1: Watch, learn and ask questions before doing anything else!
For anyone interested in starting to make money Matched Betting Extra Place Offers we'd highly recommend spending a couple of days, or even a week (depending how much time you have spare) making sure you understand what to do, playing around on the Extra Place Catcher, and most importantly following the daily Extra Place Offer thread on the forum.
The group who are very active on these daily threads in the forum are the ones who have usually been doing Extra Place Offers the longest and the ones who have the best experience.
They are an absolutely essential resource to make use of for any beginner.
Watch what they are doing, ask questions and read the advice they give to other beginners too.
If you have the time it's also worth reading the past daily Extra Place threads. You can find them all by searching "Horse Racing Extra Places" on the forum (in titles only), or by opening the forum in a tab and then clicking here.
---
If you don't have access to the forum yet you absolutely need to get it before even thinking about starting these offers! The forum is literally like a goldmine of profits and knowledge when it comes to Matched Betting. Upgrade to our Platinum Membership to get instant access.
ACCESS PLATINUM TODAY!
---
Tip 2: Start with small each-way stakes first and build up slowly
No matter what you're Matched Betting bankroll is we'd advise starting Extra Places by just using £1-2 each-way bet stakes at first until you get the hang of things and can quickly place your bets.
On the Extra Place Catcher you can use the Filter option to set your preferred each-way stake:
Tip 3: Filter out horses that are strong favourites and extreme outsiders (initially)
Until you build up your experience and have a good-sized Matched Betting bankroll to tackle Extra Place Offers we'd recommend filtering the Extra Place Catcher to initially select only horses with odds between 3.0 and 25.0.
This odds selection (for most races) will cause horses that are strong favourites or extreme outsiders not to be included in your Catcher's search results. These horses are, in general, thought to be much less likely to finish in the extra place position so is why we recommend excluding them initially.
On the Extra Place Catcher you can use the Filter option to set your preferred odds ranges:
Once you have the hang of things and are making decent profits you can then consider increasing the upper range of odds to include outsiders with larger odds as well.

Sometimes outsiders can provide good value when they have a small Qualifying Loss but very large potential profits. However, they often do require a large liability in your betting exchange, so bare this in mind before you extend your preferred odds range too.

Depending on how much time you have for Extra Place Offers you could consider further enhancing this strategy by filtering out favourites and extreme outsiders on a per-race basis as well.
In one race for example if more than half the horses running have odds under 20.0 it might be worth considering focusing only on the horses with odds of 20.0 or less initially with the Extra Place Catcher. Once you have good value each-way bets on them if you then happen to see a good value bet on an outsider (with odds well above 20.0) you could add that horse in as well.

However, once you have gained the skills you need, are doing well with Extra Places and built up your bankroll - there is little reason to exclude outsiders with high odds that are also good value (see Part 4). Why? As sometimes those huge odds horses can hit the Extra Place!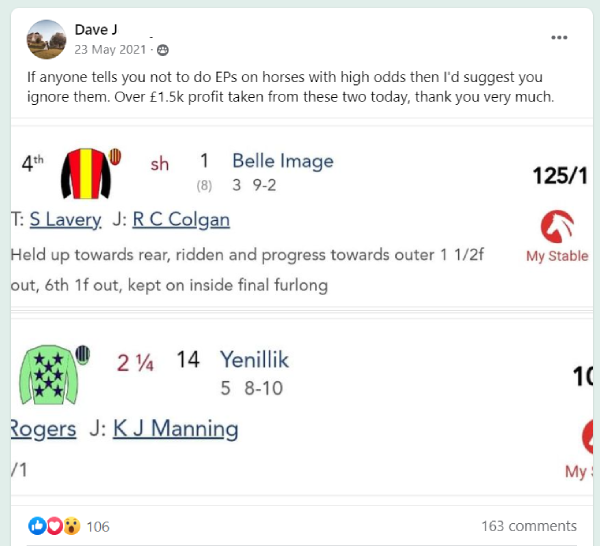 Tip 4: Stick to small Qualifying Losses (but keep an eye on Potential Profits too!)
Although this isn't set in stone, we'd advise starting off by working roughly on the following Qualifying Loss amounts:
£2 each-way stake: A maximum £0.25 Qualifying Loss per horse
£5 each-way stake: A maximum £0.50 Qualifying Loss per horse
£10 each-way stake: A maximum £1 Qualifying Loss per horse
Remember though that in Part 2 of our Extra Place Offer guide we also talked about alternatively setting a maximum Qualifying Loss per race too rather than just per horse. Doing this can give you some added flexibility to your Qualifying Loss amount per horse but prevent you from over-spending on your total Qualifying Loss budget for a race.
Using £2 each-way stakes as an example you could aim for an average 25p loss per horse instead of being super strict that each horse specifically has to be 25p or less.

The choice is yours though and everyone develops their own approaches in the long run.
It's also important to bear in mind that even if you set a maximum total Qualifying Loss for a race you could still be flexible if for example you suddenly saw another horse with a good value opportunity for you (e.g. £0.15 Qualifying Loss, with Potential Profit of £30+).
Remember, while looking for small Qualifying Losses you also need to keep an eye on the Potential Profit of horses too.
You basically need to consider that a total £5 Qualifying Loss for a Potential Profit of £20 to £70 on 5 horses in a race is much better than a total £5 Qualifying Loss for a Potential Profit of £10 to £30 on 5 horses in a race.
(Implied odds and the Value Betting strategy – which we discuss in the strategy Part 4 of our Extra Place guides - is an alternative measure that you can also use to consider how good a horse's value is or not too).
Once you are happy you really have the hang of things you can consider increasing your maximum Qualifying Loss per horse to 10% of your total each-way stake amount. (For a £10 each-way bet this would be a £2 Qualifying Loss).
Tip 5: Select your races wisely
As a beginner on Extra Places in Matched Betting we feel that it could be to your benefit if you try to be a bit picky about the races you choose to bet on. Basically you want to try and select any races where you will have the best chance of getting a horse coming in on the extra-place.
Betfred is offering 1 extra place on top of the standard places in each of these races. No other bookies are offering extra places on these races. As there aren't a huge number of runners in each race betting on two horses in the same race at Betfred might not be the best idea (you could do but it could lead to being gubbed if done too frequently).
If we stick to betting on just one horse per race in this instance, which of these races offers the best opportunity for us to hit the extra place?
The 13:20 at Southwell.
Why is this?
There are 7 runners which means a horse in the race has a 1 in 7 (or 14.29%) chance of hitting the extra place.
In the 14:35 at Bath there are 12 runners, which means a horse in the race has a 1 in 12 (or 8.3%) chance of hitting the extra place.
(Remember though the 13:20 at Southwell could go out the window if there are just no decent horses for us to bet on. Then we might have to go for the 'next-best' race option instead which could be the race at Bath).
What about these next two races, which would be the better of the two to focus your time on (especially if you only have limited time available to do your bets)?
The 13:50 at Royal Ascot – for two reasons.
First of all Sky Bet and William Hill are offering to pay out on two extra-places in the race – 4th and 5th position.
Two extra-places means we get double the chance that one of the horses we bet on will finish in an extra-place! These are an opportunity never to be missed when doing Extra Place Offers.
Instead of a 1 in 15 chance (6.66%) we get a 2 in 15 chance (13.33%) of our horse hitting the extra-place, as with Sky Bet and William Hill we will make a profit if our horse finishes in 4th OR 5th position.
(It's worth noting when a bookie is paying out on two extra-places like this on a race we need to be sure to lay the correct number of standard places at the betting exchanges to ensure we benefit from both extra-places. In this example we would be laying 3 places at the betting exchanges).
By using the multi-horse strategy on this race we could potentially end up with 2 horses coming in on the extra-places!
For example, if we bet on a horse at Sky Bet and it came 5th, then another horse at Betfred and it came 4th, we'd make a profit on both horses. Lovely!
The second reason why the 13:50 is a better race to focus on is the sheer number of bookies offering an Extra Place on the race. In most cases (but not always!) the more bookies there are the more likely we are to find good value horses to do our each-way bets on.
The final type of race to always go for is any race where the bookies are offering higher place odds (e.g. ¼ the odds rather than just 1/5). These races are also worth prioritising as our Potential Profit available per horse will be higher.
Tip 6: Change the auto-refresh setting on the Extra Place Catcher (if you need to)
When you are learning to use the Extra Place Catcher and how to edit the odds especially, if the Catcher is on it's default settings it can suddenly refresh and clear everything you've done half-way through doing it.
Until you get to grips with using the Extra Place Catcher you could turn the Auto-Refresh off so that you have time to re-calculate your each-way bets as you need. Then manually refresh the Catcher when you've finished.
Once you get confident using the Catcher you can then switch the Auto-Refresh back on.
Tip 7: Don't forget to mark your bets as each-way at the bookmakers!
This may sound like a silly thing but it's so easy to do especially when you're in a hurry or if you're not concentrating properly!
Also make sure you lay the correct horse to win and the correct horse to place at the betting exchange!
These are the two most common mistakes you can make when tackling Extra Place Offers - so try to avoid doing them as it can end up costing you if you don't notice in time.
Tip 8: Sometimes there just aren't any good each-way bets to do – accept it and move on!
If you don't have lots of time in the day for Matched Betting Extra Place Offers there will be days when you just don't see any horses with good Qualifying Losses come up for you.
Don't break from your basic strategy (e.g. sticking to small Qualifying Losses) in order to just get some each-way bets on – you'll end up regretting it. Either just wait for later in the day if you can or if you don't have time spare later just forget it for the day and wait for tomorrow's offers instead.
Tip 9: Understand learning to do Extra Places well can take a bit of time - they are a more advanced Matched Betting reload offer after all!
Extra Place Offers are an advanced type of Matched Betting reload offer where you need to get quite confident at what you are doing and be happy in your ability to place each-way bets quickly and correctly.
You also need to know how to use the Extra Place Catcher, change odds as required on it and learn to filter out the 'noise' to focus on the best value each-way bets to do too.
At first it might seem like doing Extra Place Offers is really hard – but 100% if you practice and go for it, before you even know it, you'll be selecting horses and placing your each-way bets without a second thought.
Extra Place Offers are also an advanced offer because they are not risk-free. Although they are very profitable for us to do over the long-term just like 2up early-payout offers and casino offers there can and will be times when it will seem like no horse you ever bet on wants to come in the extra place.
In fact, frustratingly they'll probably always seem to come in the place just before or after the extra place position! (Just ask anyone doing Extra Places long-term on the forum – they'll tell you how true this is!)
Before starting Extra Place Offers we therefore recommend that you are definitely prepared mindset wise for the intermittent dips you'll have and that you are also clear that you won't be profitable everyday but that you will be profitable on average overall.
Always try to keep in your mind that many of our long-term members consider Extra Place Offers to be part of their 'bread and butter of Matched Betting reload offers' because they are so profitable for them.
Tip 10: Keep a record somewhere of every Extra Place Bet you do
We tend to advise using the main Profit Tracker on Outplayed to record your overall profit/loss on an extra-place race, then a separate spreadsheet or similar document to record all the each-way bets you have placed.
Once you really get good at Extra Place Offers you won't really need this spreadsheet. In the beginning, though it is exceptionally useful to do as you learn and refine your strategy.
The other benefit of doing a spreadsheet is that you can also share it with experienced members in the forum who will be able to give you feedback on where you might be able to improve your approach and if you are doing the correct bets.
One of the quickest ways we've found to record your each-way bets is to first save them on the Extra Place Catcher. Then just use a screenshot tool (such as the snipping tool on Windows) to screenshot all the bets you've done and save the images in an excel file (or other location). Excel is useful as you can organize your bets by day on separate sheets.
That's it for our tips for beginners - now on to a discussion on alternative strategies for doing Extra Place Offers in Part 4 of our Extra Place guide!
GO TO EXTRA PLACES PART 4
---
Want to know more about Matched Betting?
Why not ask our members yourself?
JOIN THE COMMUNITY
Our Facebook Group, which currently has over 50,000 members is a great place to get answers and ask for help, especially if you are completely new to Matched Betting.
---
Interested in Getting Started Matched Betting?
You can start learning for free with our free trial and make your first profits.
FREE TRIAL AVAILABLE HERE

Alternatively, upgrade to our Platinum Membership here. You can easily make the cost of your membership back within an hour or so once you get the hang of things. Talk about value for money!