What is Matched Betting?      (Everything You Need to Know)
Matched Betting (also known as back or lay bet matching, arb betting, or double betting) is a proven technique that can be used to extract profit from the free bets and incentives offered by bookmakers. It is based on the application of math and the ability to cover every outcome of a bet.
Matched Betting is an established method of turning free bets offered by online bookmakers into real cash. It works by placing multiple bets, or wagers, on every possible outcome of a sporting event so that every eventuality is covered. Win, lose or draw - it's covered. By doing it properly it becomes possible to make a profit regardless of which team wins a game, which horse wins a race or which player wins a match.
You can see how Matched Betting works and try it out for yourself by signing up for our completely free trial. No card details are needed and no obligation to purchase. Your first profits are on us.
Start For Free
More Info
How does matched betting work?
Matched Betting uses a combination of math and the ability to place multiple bets to cover all possible outcomes to extract profit from bookmaker free bets. It works and we've taught over 150,000 to do it so far. In the UK, Matched Betting free bets from online bookies still works in 2022 and thanks to the bookie free bets, shows no sign of ever stopping.
How much can I make?
Even if you can only spare a little time each day it's possible to get very good results with Matched Betting. Of course, the more time you can put in - both to learning and doing - the more you can get out of it. We have members who've even blown our experts away with what they've achieved. Dive in, aim high and you might even surprise yourself with what you could do.
How long does it take?
One of the good things about Matched Betting is that it is super flexible and you can do it in your own time. As with any new skill, it can feel a bit slow when you're first learning how to do it. Once you've got the hang of it though it gets much faster. What might have initially taken you 30-45 minutes as a beginner, will later take you just 5-10 minutes.
Will I need to learn about sports or betting?
We teach you everything you need to know to be successful at Matched Betting. The best bets for Matched Betting are never selected using sports knowledge or betting tips! They are selected on how closely a pair of betting odds match between two betting sites. The closer the match between the odds, the better the Matched Bet is. Our Oddsmatcher software automates finding bets for you too.
What if I'm already signed up to some bookmakers?
There are over 70 registered bookmakers in the UK, so you probably haven't signed up to all of them. Even so, after the signup offers bookmakers give out reload offers to retain customers, and we have step-by-step easy to understand video instructions for each offer.
It sounds too good to be true. Is it a scam or worse, illegal?
Matched Betting is 100% legal and has even been featured in several national newspapers (The Guardian, The Daily Mail and The Telegraph to name a few!) There's really no catch to it. You can see this for yourself right now and exactly how Matched Betting works by signing up for our completely free trial.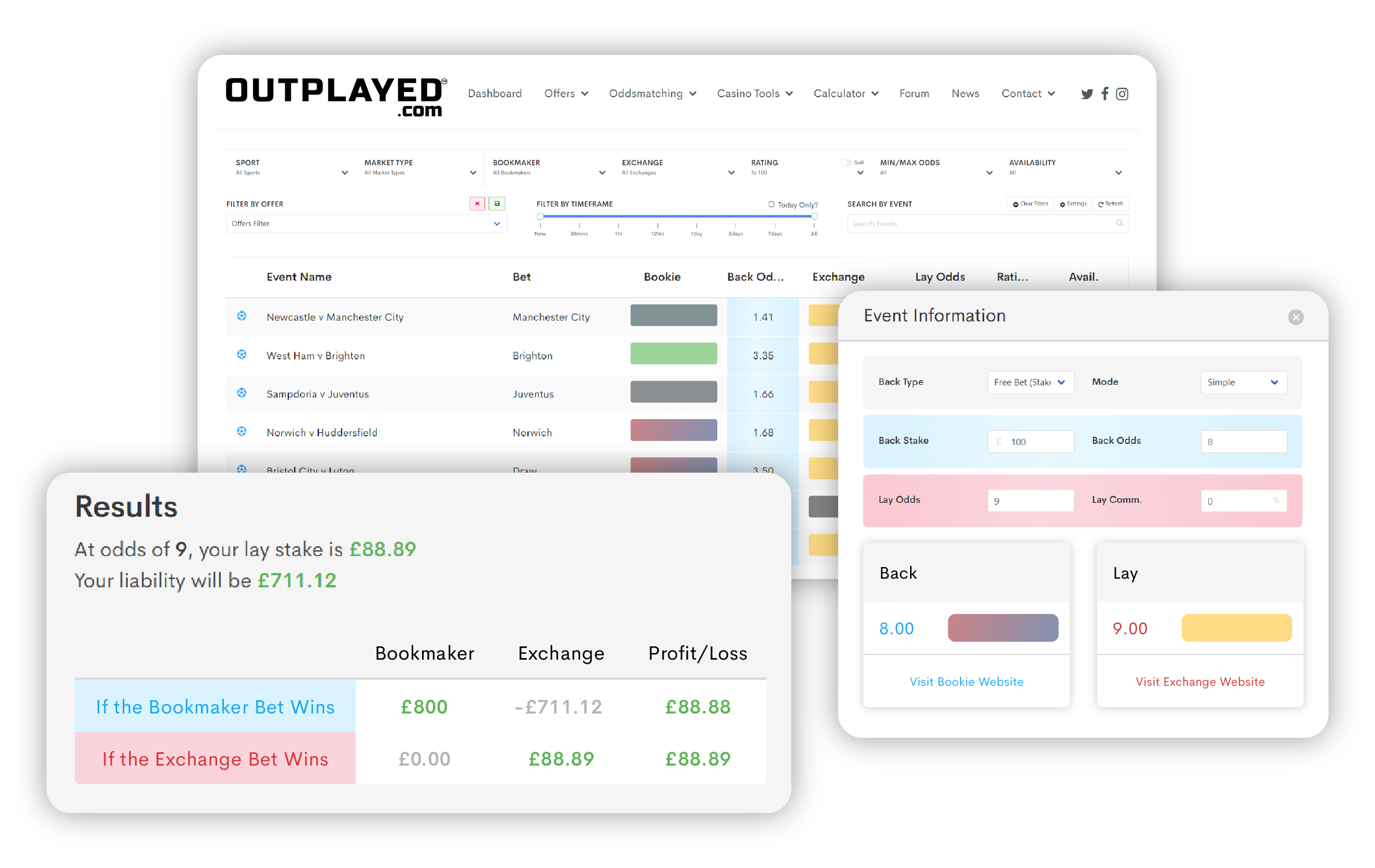 Beat the Bookmakers with Outplayed
Bookmakers give away huge cash sums as free bets as a way to attract new customers and to keep them betting. Matched Betting exploits these offers and turns them into cash by using a little math to place multiple bets that cover all possible outcomes.
Want to know more? Join the UK's largest matched betting community today. Sign up for our completely free trial.
Sign Up Now Free
Returning Member? Log In here.
How Does Matched Betting Turn Free Bets to Cash?
Bookmakers give money away in the form of bonuses and free bets. Matched Betting can be used to extract 60-85% of the total bonus or free bet amount as cash. This cash can be extracted no matter what happens at the end of the game, race, or match that is being bet on. As long as Matched Betting is done properly, win, lose or draw the cash can be extracted.
Here's a brief outline of how Matched Betting on a free bet works:
The free back bet is placed at the bookmaker (e.g. for Team A to win). Immediately after that, one lay bet is placed at a betting exchange. This lay bet must be a bet that is directly against, or directly opposite to, the result that was just bet on at the bookmaker (e.g. it must be on Team A to NOT win). The stake (or amount) of the lay bet required at the betting exchange is always determined using a Matched Betting calculator. By laying the bookmaker's free bet off correctly at the betting exchange, it is possible to unlock the value of the free bet as cash, regardless of the outcome of the event.
A typical cash extraction on a free Matched Bet where the stake is returned is 85%+ of the free bet amount. For a free Matched Bet where the stake is not returned, the cash extraction is around 70%-80%.
This means if a bookmaker is giving away a £10 free bet - on average, using the written tutorials, video guides, community, calculators and other tools Outplayed provide, you will be able to 'unlock' approximately £7-£8 of that free bet as cash profit.
As another example, let's say a bookmaker is giving away £10 if you bet £10 on tennis. If the odds are right, it would be possible to bet on Player A to win and bet against (or lay) on Player A not to win at a betting exchange. Doing this would mean your original £10 is returned (as you have all outcomes covered) and you also get your £10 bonus from bookmaker. You then repeat the matching process (one bet at the bookmaker, and equivalent but opposite lay bet at the betting exchange) with your free bet amount to extract a profit.
It's worth knowing that not all bookmaker free bets, offers, incentives and promotions are made equal. With over 50 bookmakers in the UK handing out incentives every day it can get overwhelming to work out which offers are best to do.
This is where Outplayed comes in.
Our expert team finds every profitable Matched Betting offer for you do, then list and categorize them for you too. If all that wasn't enough - they also provide step-by-step guides, frequently with videos for you to follow. All this means is that you just login, pick the best offers for you, follow the guides and profit.
On top of all that Outplayed also provides you with all sorts of Matched Betting tools to help make the back and lay betting as efficient and effective as possible. Trying to do Matched Betting without everything Outplayed has to offer would become extremely time consuming.
You might have seen that some of the bonuses and free bets offered by bookies are for new customers only. Matched Betting works well beyond these initial signup offers though as the bookmakers also provide incentives, promotions, bonuses and free bets for their existing customers. In the Matched Betting community these offers are known as reload offers. As there are so many bookmakers in the UK all competing for their customers attention - there end up being reloads offers for us to profit on pretty much every day.
Is Matched Betting Legal?
Yes, Matched Betting is perfectly legal.
It can be done by anyone who is eligible to open an online betting account in the UK and Ireland (i.e. Over 18's only!). As profits made with Matched Betting are classed as betting winnings, it's also tax-free.
Matched Betting is still relatively new, which is one of the reasons many still don't know about it or trust it. In recent years it's been growing in popularity as people realise the potential. Outplayed, for example, has had over 150,000 paying members use our service.
It is true that if bookmakers suspect you are Matched Betting they will no longer provide you with free bet promotions or restrict how much you can stake on a bet. This isn't to worry about as there are so many legitimate methods to keep under the bookies radars. Our Matched Betting community share advice and tips on this very matter to help members keep their accounts thriving.
How Much Can You Make From Matched Betting?
Results with Matched Betting vary widely and mainly depend on how much time you can dedicate to it.
We have 1000's of active members, many of who do really well only just doing 2-3 hours when they can over the course of a week (i.e. 20-30 minutes a day). Matched Betting is super flexible and can fit in around even very busy schedules.
For those who can put more time in, such as 2-3 hours a day, the results can be very rewarding as you can complete more of the available offers.
Outplayed does not recommend Matched Betting as a replacement for any form of employment.
Will I need to learn about sports or betting?
At Outplayed we teach you everything you need to be successful at Matched Betting. Our training guides and videos walk you through how to place both back bets at the bookmakers and lay bets at the betting exchanges. The guides also clearly explain that the process of Matched Betting always involves the placement of both a back bet and a lay bet. These two types of bet are always done so that all possible outcomes are covered.
Matched Betting Free Trial
Outplayed offers a free trial that is designed to let you see how Matched Betting works. It includes instructions on how to do two bookmaker sign-up offers and if you complete both offers, it is possible to make up to £40 in profit.
If you like what you see, you can then upgrade to our Platinum Membership option. This includes full access to all bookmaker sport offers, tools and training guides, as well as use of the Matched Betting forum. The forum is is an extensive and active community, where members share advice and support each other through their Matched Betting journey.
View Trustpilot Reviews
Sign Up Now Free
Learn More About Matched Betting
There's a host of matched betting guides and other resources free to access for those who want to find out more.
Here's some suggested articles:
---
Match Betting Tips
What is Match Betting? It is a system that allows you to profit from betting on both sides of a sporting event. It is also called Matched Betting, lay bet matching or double betting. Math combined with the use of lay betting at a betting exchange enable Match Betting to work successfully.
Keep it simple
Start with the sign-up offers and only do the offers you understand. As your experience grows, as will your confidence and this is important before attempting some of the more advanced and complex offers. Remember, Matched Betting is not a get-rich-quick scheme. You do have to learn the process and devote time to completing the offers - but it is worth it!
Monitor your money
Keeping track of your cash is vital. Your money will be spread across several bookmaker and betting exchange accounts and it's easy to lose track of what's where. We recommend using our integrated Profit Tracker Tool to keep track or one of our recommended Matched Betting spreadsheets.
Stay secure
Keep a list of usernames of passwords using something like LastPass. This will save you time and keep your details secure when logging into all your bookmaker accounts. We also recommend using two-factor authentication on your Outplayed and betting exchange accounts.
Ask for help
Don't be afraid to ask questions or get help from our amazing team and communities. They all remember when they first started Matched Betting and love to help beginners. Our customer support is truly superb and they are available by phone, email and website live chat seven days a week.
Jargon buster
When you start matched betting, you're likely to run into a few unfamiliar words and phrases, especially if you use the forum.
Here's some of the most common terms with definitions:
| | |
| --- | --- |
| ARB | Arbitrage bet |
| EV | Expected Value or Estimated Value |
| FB | Free Bet |
| FS | Free spins |
| KYC | Know Your Customer (used when verifying accounts) |
| MB | Matched Betting |
| MBing | Matched Betting |
| PA | Profit Accumulator - former name of Outplayed.com |
| QB | Qualifying bet |
| QL | Qualifying loss |
| OP | OUTPLAYED.com |
| RTP | Return to player (used on slots, each slot has a return to player %) |
| SNR | Stake Not Returned |
| SR | Stake Restricted (Depending on thread context) |
| SR | Stake Returned (Depending on thread context) |
Football specific:
| | |
| --- | --- |
| 2UP | 2 goals up, used for the Bet365 and Paddy early pay out offers |
| 4MM | Four means more (offer run by William Hill) |
| ACCA | An accumulator bet (a bet of more than one selection in the same bet) |
| AGS | Anytime goal scorer |
| BTTS | Both teams to score |
| CS | Correct score |
| FGS | First goal scorer |
| FT | Full Time |
| HT | Half Time |
| HT/FT | Half time/full time |
| LSG | Last goal scorer |
| PUP | Pick your punt (done by Betfred) |
| RAB | Request-a-bet (done by Skybet) |
| WOP | What odds Paddy (done by PaddyPower) |
| WWGI | Win, win, get in (Offer run by Coral) |
Horse Racing specific:
| | |
| --- | --- |
| BBL | Beaten by a length |
| BOG | Best Odds Guarantee |
| EW | Each-way |
| LATL | Lead at the last |
| SP | Starting Price (the odds that a horse starts at) |
Bookies (To name a few):
| | |
| --- | --- |
| 365 | Bet365 |
| 888 | 888Sport |
| BF | Betfair |
| BFEX | Betfair Exchange |
| BFSB | Betfair Sportsbook |
| BT | Blacktype |
| BV | BetVictor |
| HILLS | William Hill |
| LADS | Ladbrokes |
| MB | Matchbook |
| PP | Paddy Power |
| SM | Smarkets |
| WH | William Hill |
---