Matched Betting - Turn Free Bets Into Real Cash (Full Guide)
What is Matched Betting? 
Matched betting works by covering all outcomes of an event in order to qualify for free bets and bonuses. You can then use the same process to turn those free bets and bonuses into cash. Our Outplayed software and calculators make this easy to do so that you can make a profit from every offer.
Quick Tip
If you prefer to learn by doing - sign up for our 14 day free trial. We've already taught over 150,000 in the UK how to do it, making us the #1 for matched betting.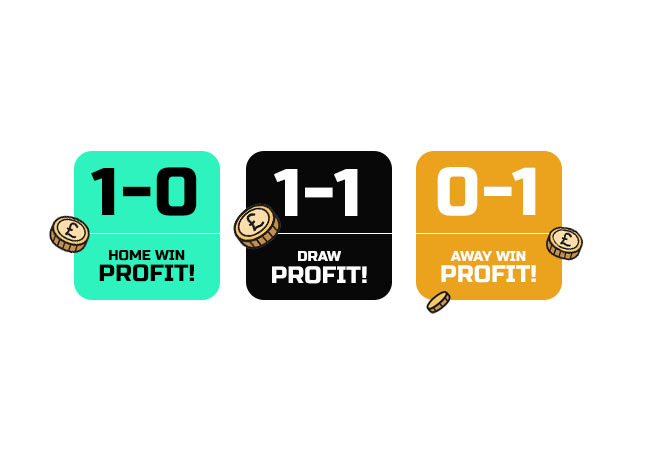 Profit every time.
How Does Matched Betting Work?
Matched betting or matched bets works by converting a bookmaker's free bet into real money through a 'back and lay' betting technique. Online bookmakers provide these offers and free bet promotions as part of their welcome bonus offers to attract new customers.
By placing a similar bet against the same outcome (a lay bet), you can eliminate the possibility to lose money associated with each bet for a losing outcome (back bet), ensuring that you win regardless of the outcome. You will win around 80% of the free bet value, so a £50 free bet will net you roughly £40 in profit.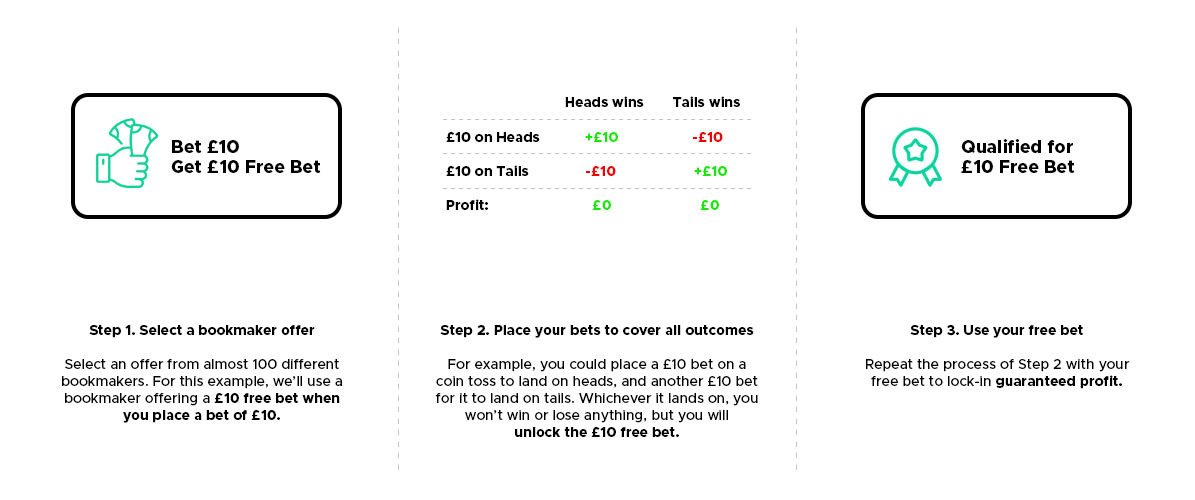 A simple example of matched betting.
That's just the beginning though - the bookies also give out tonnes of freebies and similar promotions to existing customers on a daily basis called reload offers. These reload offers are where the serious and long-term profits with matched betting come from.
How Does Matched Betting Turn Free Bets to Cash?
Bookmakers give money away in the form of bonuses and free bets. Matched betting can be used to extract around 80% of the total bonus or free bet amount as cash. This cash can be extracted no matter what happens at the end of the game, race, or match that is being bet on. As long as matched betting is done properly, win, lose or draw the cash can be extracted.
Quick Tip
If a bookmaker is giving away a £10 free bet - on average, using the written tutorials, video guides, community, calculators and other matched betting tools Outplayed provide, you will be able to 'unlock' approximately £7-£8 of that free bet as cash profit.If a bookmaker is giving away a £10 free bet - on average, using the written tutorials, video guides, community, calculators and other matched betting tools Outplayed provide, you will be able to 'unlock' approximately £7-£8 of that free bet as cash profit.
The Basics
A bookmaker is running a promotion where if you place a bet of £10 you get a free £10 bet on any event.
If you imagine a coin toss there are only two possible outcomes, heads or tails, with an equal probability of both happening. If you were to put a £10 bet on heads and it wins, you both win and lose £10. If tails wins, you also win and lose £10. Either way, your overall profit is zero (as the two bets cancel each other out), but you will have met the conditions needed to qualify for your free bet (by placing a £10 bet).

Matched Betting Example
Now, you will have your £10 free bet. Matched betting is all about locking in a profit, so to do that you simply repeat the process, covering all outcomes on another event, but this time using your free bet. Take a look at the table below where we place our £10 free bet on heads, then a £5 bet on tails to guarantee a profit no matter the outcome.

How to make a profit matched betting
How do you know to bet £5? Our oddsmatching calculator tells you exactly what stake is needed to return a profit no matter the outcome when using a free bet.
In the example above, we extract 50% of the value of the free bet (£5 profit from a £10 free bet). In real life, we can usually extract 80% of the free bet value. So, if your free bet is worth £10, you'll make about £8 profit.
These two kinds of bets are known as back bets and lay bets. A back bet is betting that something will happen. A lay bet is betting that it won't. For your back bets you'll use a bookie, and for your lay bets, you'll use a betting exchange.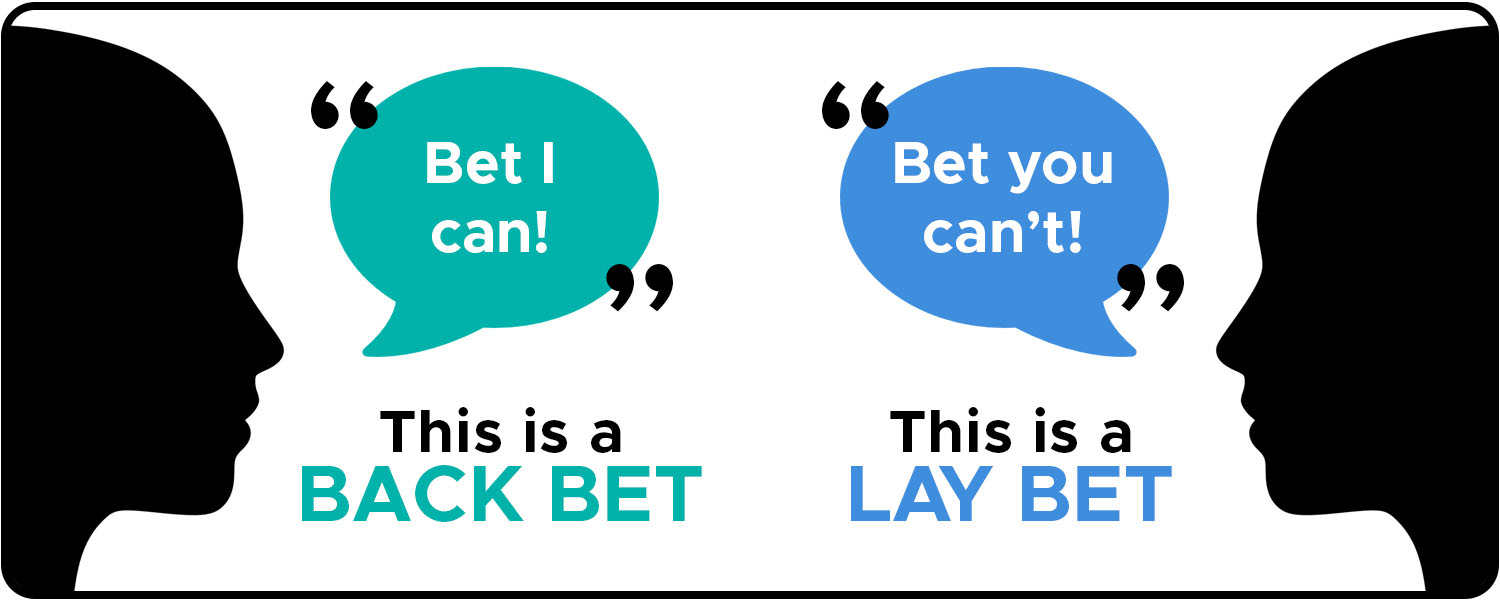 Back and lay bets
Betting exchange
Events can have more than two outcomes (like a football match being a home win, an away win or a draw). Each result has a different likelihood of happening which is reflected. in the betting odds). Because most events have more than two possible outcomes, you will use something called a 'betting exchange' which enables you to bet that something won't happen.
For example, you can bet that the home team will win a football match at a bookmaker. A betting exchange lets you bet that the home team won't win, covering a draw or away win in a single bet. Doing this means you still only need to place two bets to cover all possible outcomes.
Betting exchanges can be a stumbling block to learning matched betting, and that's perfectly natural. Overcome the initial learning curve, and they're pretty simple. Take your time, and don't be put off if it's not clear the first time around.
Betting exchanges are very similar to bookmakers, with one key difference. Instead of betting against a bookmaker, you bet against other people. That's why it's called a betting exchange; people are exchanging bets. Betting exchanges allow users to propose a bet that they want to place. If another user is happy to take that bet, the bet becomes 'matched'. The second user here effectively plays the role of the bookmaker.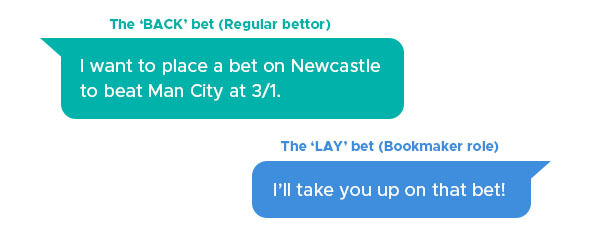 Back and lay bets
Betting at a bookmaker, you will always be on the back side of the bet and when you use the betting exchange, you will almost always be on the lay side. Doing this allows you to cover all of the outcomes of an event using only two bets (even if there are more than two outcomes).
For example, in a football match there are three possible outcomes – a home win, an away win, or a draw. If you back the home team to win at the bookmaker, this covers one outcome.
You can then place a lay bet on the home team at the betting exchange so you're also betting that the home team won't win, which covers the draw and away win outcomes.
At this point, you may be wondering how betting exchanges make money if it's just users betting against each other. Well, the exchange takes a small commission from the user who wins the bet, usually 0-5% of the winnings. We take this small amount into consideration when we work out our stakes.
Now you know the basics of what matched betting is, let's walk you through making a profit from Coral's new customer offer, step-by-step. Once complete, you'll be able to apply the same process to any similar offer and make a profit no matter the outcome.
First offer walkthrough
Coral is a very well-established UK bookmaker and a great place to start matched betting. You can make at least £15 profit from it no matter the outcome. The amounts you need to stake are small, so it's great for building up your confidence before tackling larger offers.
1. Open a PocketBet account
Before you can place any bets, you'll need to open a betting exchange account. We recommend PocketBet as they're the best option for matched betting newbies. This is where we place our lay bets.
2. Open a Coral account
Coral are offering new customers a £20 free bet when they place a bet of £5. Now go ahead and set up your Coral account, using this link to ensure you are directed to the correct offer. Fill in your personal details and create your Coral account, you don't need to deposit any funds at this stage.
3. Switch to decimal odds
When you place any bet, the odds you get determine how much money the bet will win. Odds can be displayed as fractions or as decimals. For our purposes we only care about DECIMAL odds because they're much easier to work with.
On the Coral Website, you want to change the odds that are being displayed to Decimal format. You can do this by going to My Account > Settings, followed by Betting Settings and you can now choose DECIMAL as your odds format preference. When you return to the homepage, you will see that the odds are displayed in decimal format.

Decimal
4. Qualifying bet
Now you have your accounts set up, you can claim your offer. The bet you'll place to qualify for your free bet is commonly known as your 'qualifying bet'.
Coral Offer info:
Deposit Amount - £5
Deposit Method - Debit Card
Qualifying Minimum Stake - £5
Qualifying Minimum Odds - 1.5
Free Bet Value - £20
Potential Profit - £14-£16
We're going to place a £5 back bet with Coral in order to qualify for the offer, and then place a corresponding lay bet with PocketBet. This initial qualifying bet needs to be at minimum odds of 1.5 or greater and our back bet must be at a stake of £5. It's also best to look for close odds between your back bet at Coral and your lay bet at PocketBet. This qualifying bet means you can claim your free bet by losing just a few pence overall.
To find my bet, I simply go to the oddsmatcher and select Coral Qualifying Bet from the dropdown:

Oddsmatcher
Place your back bet
In this example, the odds are 1.80 for Man City to beat Arsenal at Coral, which is your back bet. On PocketBet, you can lay Man City at odds of 1.88. (Remember, laying means you're taking the role of bookmaker and therefore betting on Man City NOT to win).

Coral Odds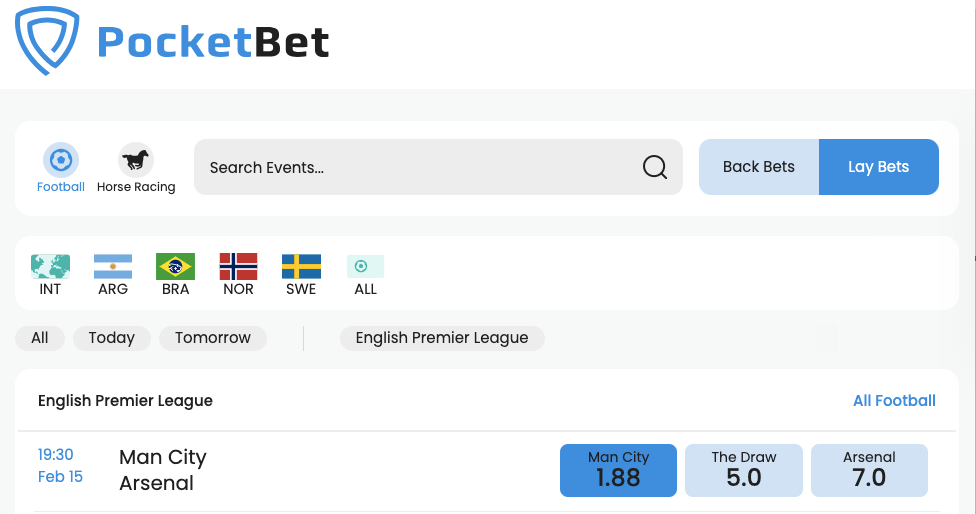 PocketBet Odds
So, you will cover the outcomes:

Matched Betting: All outcomes covered
You can now place your qualifying back bet at Coral. You know you need to place a bet of £5 to qualify, so you can do that now. Deposit £5, and click on the '1.80' button underneath 'Man City', enter your stake of £5 and click 'Place Bet'.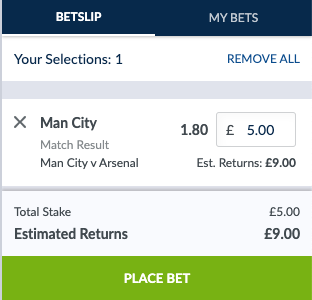 Placing a bet with the bookmaker
Place your lay bet
You don't know yet how much you need to stake at PocketBet to even out your bets. The oddmatcher calculates this for you and you can click the PocketBet icon to open the calculator: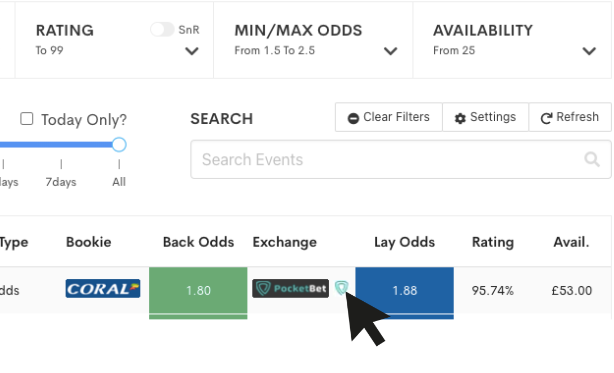 Click here to open the calculator and exchange integration.
This will then open the calculator: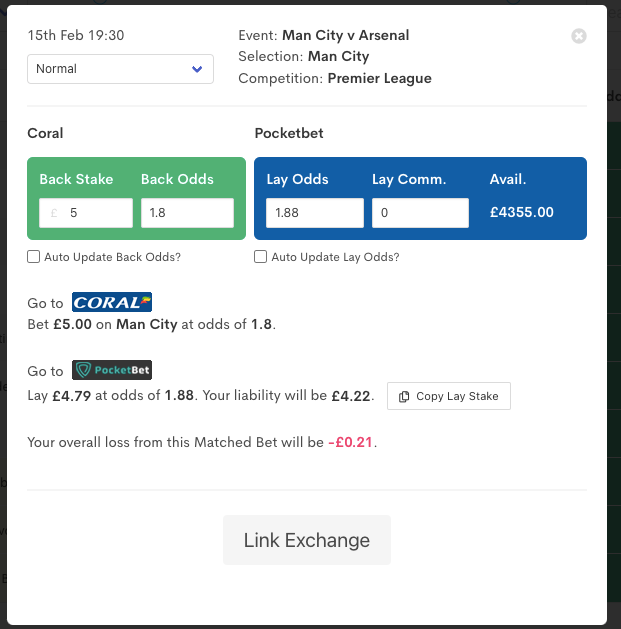 Matched Betting Calculator
As you can see, the calculator tells you how much you need to stake at PocketBet to be as close to breaking even as possible. Based on the Man City vs Arsenal example, that is a stake of £4.79, resulting in a slight overall loss of -£0.21.
You can set up your PocketBet integration by clicking 'Link Exchange'. Once you have done this, you will be able to lay your bets with PocketBet directly from the Outplayed oddsmatching calculator. Once you have connected your PockbetBet account, you can place your lay bet simply by clicking the "Place Lay Bet" button.
Placing an integrated bet
This is how the lay bet would look in PocketBet. It tells you that your liability is £4.22, and it's good practice to check this figure against the expected loss on the calculator. As you can see, they're both the same, so you know you have entered the correct lay stake (sometimes they might differ by a penny due to rounding).

A lay bet in PocketBet
Outcomes
Let's look at your overall profit/loss for the potential outcomes.
All outcomes covered

As you can see, regardless of whether Man City win, lose or draw, you'll incur a slight loss of no more than £0.22. But, you will have qualified for a £20 free bet.
5. Using your free bet
To profit from your £20 Coral free bet you simply repeat the process you've just done. Your free bet at Coral should be credited when you place your qualifying bet. Again, it's important to check the free bet terms for specific requirements.
Coral Free Bet
As with most free bets, your Coral free bet is 'stake not returned', meaning Coral won't return your £20 stake to you with any winnings. You only get back what would have been your profit on a standard bet. The free bet is valid for 7 days.
Now we repeat the process again. The only real difference in the process this time is that you should place your free bets at high odds to maximise your profit. As always, the closer the back and lay odds, the better.
Place your back bet
Using the calculator, select Coral Free Bet from the dropdown list: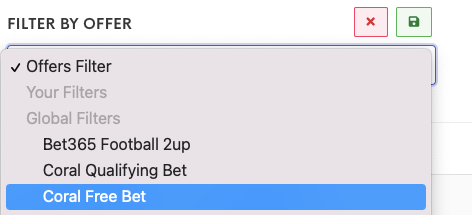 Coral Free Bet
The Oddsmatcher will automatically give you a list of viable bets, just like before when we placed the qualifying bet. This time though you will see that the Oddsmatcher will be in SNR mode and be displaying results according to their SNR Rating.
Quick Tip - SNR stands for Stake Not Returned and is used when placing free bets as, generally speaking, free bet stakes are not returned in any bookie winnings on these. The calculator factors this all in to make sure you're laying the perfect amount. This is how we generate profit from free bets!

Finding a free bet on the oddsmatcher
You don't really need to worry too much about the ins and outs of this at this stage but essentially with free bets, we want to look for selections with higher odds and an SNR rating of around 75%. This is because when using free bets, higher odds means more profit - however, the higher you go, the more money you'll need in your PocketBet account to place the bet.
So if you have the bankroll, it's good to go higher to maximise profits, but if you have a lower bankroll, you can take something lower so don't get too caught up on this.

Coral back bet odds

PocketBet lay bet odds
The odds for Newcastle are close with back odds of 10.00 and lay odds of 11.00. You can go ahead and place your £20 free bet at Coral. You'll need to select it using the dropdown on your bet slip.
Place your lay bet
Once you have chosen your selection, open up the integrated Oddsmatcher calculator by clicking on the PocketBet icon again:

Opening the integrated calculator
As before, the calculator will be filled with all of the relevant information BUT this time it will be set Free Bet (SNR) mode as we are placing a free bet. Just check your stake, which should be set to £20.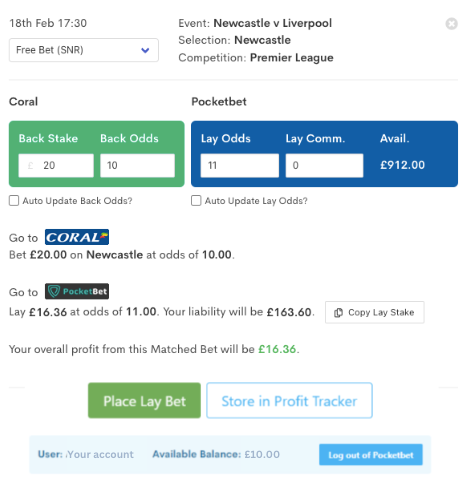 Calculator
In particular, pay attention to your liability and your overall position, or profit. In this example the liability is £163.60, this indicates that I will need at least £163.60 in my PocketBet balance in order to place this bet. I would at this stage check my PocketBet balance and, if my balance was below this figure, I would deposit enough money to cover this. If you are uncomfortable with this amount of liability then simply choose a selection at lower odds until you find one you feel comfortable with.
Quick Tip - We always check we have enough funds in our exchange to cover the Laylay stake before placing our back bets and we ALWAYS place our Back bets first.
Below the liability, you will see the profit from this free bet. In the above example, I would make £16.36 profit regardless of the outcome.
By this stage, you should have chosen your selection and you are now ready to place your free bet. Once you have found the corresponding page on Coral go ahead and place your free bet. To do this:
Load your selection into the betslip by selecting it
Make sure that the stake is £0 in the stake cell in the betslip, when you choose the free bet they will automatically set the stake for you
Select your free bet from the drop down menu
Select Bet Now to place your free bet
Once your free bet has been placed, go to the integrated calculator and then click the "Place Lay Bet" button to place your lay bet with PocketBet.
The higher your lay odds, the more funds you'll need in your PocketBet account to cover your liability. You can reduce your liability by opting for lower odds. It will just mean a slightly smaller profit.
Outcomes
So, regardless of whether Newcastle win, lose or draw, you'll make a minimum of £16.36 cash from your £20 free bet! Since your qualifying loss was no more than £0.21, you've made at least £16.15 profit from Coral's welcome offer. You've just made your first matched betting profits!
---
Matched Betting Free Trial
It might seem like a long process, but once you're into the swing of things, you'll be able to go from selecting your offer to placing your free bets in no time. Outplayed, one of the major players in the matched betting industry, offers a free trial that is designed to let you see how matched betting works. It includes instructions on how to do three bookmaker sign-up offers and if you complete both offers, it is possible to make over £40 in profit.
If you like what you see, you can then upgrade to our Platinum Membership option. This includes full access to all bookmaker sport offers, tools and training guides, as well as use of the matched betting forum. The forum is an extensive and active matched betting community, where members share advice and support each other through their matched betting journey.
Start For Free
---
Matched Betting Tips
Keep it simple
When you start matched betting, follow the order of the sign-up offers and only do the offers you understand. As your experience grows, so will your confidence and this is important before attempting some of the more advanced and complex offers. Remember, matched betting is not a get-rich-quick scheme. You do have to learn the process and devote time to completing the offers - but it is worth it!
Monitor your money
Keeping track of your cash is vital. Your money will be spread across several bookmaker and betting exchange accounts and it's easy to lose track of what's where. You can take advantage of Outplayed's profit tracker, which comes free with your membership. It's a neat tool for keeping track of all your bets and profit to be clear about how much you're making. Cool right?
Stay secure
Keep a list of usernames and passwords using something like LastPass. This will save you time and keep your details secure when logging into all your bookmaker accounts. We also recommend using two-factor authentication on your Outplayed and betting exchange accounts.
Ask for help
Don't be afraid to ask questions or get help from our amazing team and communities. They all remember when they first started matched betting and love to help beginners. Our customer support is truly superb and they are available by phone, email and website live chat seven days a week.
---
Matched Betting Frequently Asked Questions
How much do you need to get started with matched betting?
As with anything, if you've got money, it's very easy to make more - the same can be said for matched betting. The larger your bankroll, the more betting offers you can do and the more you will get back in returns from betting sites.
The good news is, that even if you don't have much money you can get started with matched betting and Outplayed. That's right, you can earn money via Outplayed today by clicking here for your free trial.
The three offers in the free trial, for example, can be done with a bank of £50 to £60. If you start with a smaller bank then just do the smaller sign-ups and build your bank ready for the larger sign-ups. You will have to be patient and your progress will be slower but you will still get there. It may take a few weeks to turn that £100 into £150 and then another couple of weeks to turn it into £200 but you will have still doubled your bank in a month.
Check out our related article: How Much Do You Need To Start Matched Betting?
What if you already have a bankroll of more than £100 to start your betting journey? If you have more than £100 to start with you'll be able to complete many sign-up offers at once. With a higher starting amount, you'll be able to take advantage of the profitable offers quicker. Using Outplayeds' simple step-by-step guide, instructional videos, forum and profit tracker, you can start making extra cash via our trusted matched betting process.
How much can you make from matched betting?
Results with matched betting vary widely and mainly depend on how much time you can dedicate to it. We have 1000's of active matched bettors, many of who do really well only just doing 2-3 hours when they can over the course of a week (i.e. 20-30 minutes a day). Matched betting is super flexible and can fit in around even very busy schedules. For those who can put more time in, such as 2-3 hours a day, the results can be very rewarding as you can complete more of the available offers.
How long does matched betting take?
As with any new skill, it can feel a bit slow when you're first learning how to do it. Once you've got the hang of it though it gets much faster. What might have initially taken you 30-45 minutes as a beginner, will later take you just 5-10 minutes.
One of the good things about matched betting is that you can do it in your own time. The more time you put in, the more offers you can do and the more money you will make. Even if you can only spare a little time each day it's possible to get very good results with matched betting. Of course, the more time you can put in - both to learning and doing - the more you can get out of it. We have members who've even blown our experts away with what they've achieved. Dive in, aim high and you might even surprise yourself with what you could do.
Is matched betting legal?
Yes, matched betting is legal. It can be done by anyone who is eligible to open an online betting account in the UK and Ireland (i.e. Over 18's only!). Matched betting profits are classed as betting winnings, it's also tax-free.
Does matched betting Affect My Credit Score?
Not at all. Bookmakers don't tend to perform credit checks. Whilst bookmakers may sometimes carry out a credit check on you (rare), it isn't recorded and has no effect on your overall score. 
Do I need to know about sports or betting?
No. You don't need any knowledge of sports or betting to do matched betting. At Outplayed we teach you everything you need to be successful at matched betting. The best bets for matched betting are never selected using sports knowledge or betting tips! They are selected on how closely a pair of betting odds match between two betting sites. The closer the match between the odds, the better the Matched Bet is. Our Oddsmatcher software automates finding bets for you too.
It sounds too good to be true, is it a scam or worse, illegal?
No. Matched betting is 100% legal and is recognised as the most effective way of making money online. It's been featured in many national publications (Guardian, Telegraph and Calvin Ayre). Better still, the money you earn is tax-free. The reality is that if you invest the time to learn, you will make money. It really does work.
Can I do matched betting if I have existing betting site accounts?
Quick answer - YES, jump on our live chat or email our support team for advice on how you're best to start. There are over 70 registered bookmakers in the UK, so you probably haven't signed up to all of them. Even so, after the signup offers bookmakers give out reload offers to retain customers, and we have step-by-step easy to understand video instructions for each offer.
---