Matched Betting Cheltenham: Race Schedule & Tips
The Cheltenham Festival 2023 (Tuesday 14th March until Friday 17th March) is one of the biggest horse racing events of the year in the UK and is therefore also one of the most profitable times of the year for anyone Matched Betting - no matter if you're quite new to it or really experienced.
See: Matched Betting Cheltenham: How much could you make?
Throughout the Cheltenham Festival, the bookies will be pushing very competitive odds, loads of free bet offers, money back specials, price boosts and more extra place races, with 'extra' extra places. With such a quantity of quality offers being pushed it will definitely pay off to be as prepared as you can.
See: Matched Betting Cheltenham: How to prepare
See: Make the Most out of Cheltenham Around Your Full-time Job
See: New to Matched Betting? Top 10 Tips for how to Make the Most out of Cheltenham

See: Daily Routine To Help Make The Most Of Matched Betting Cheltenham
In this article, we're going to share a few general tips on Matched Betting the Cheltenham Festival. Anyone completely new to Matched Betting, relatively new to Matched Betting, or who has never done Matched Betting during a horse racing festival will hopefully find this article very helpful.
---
TIP 1 - Know the Schedule
Cheltenham Festival 2023 Races, ITV Races and Highlights
When Matched Betting any horse racing festival, such as Cheltenham, it's extremely useful to have at least a rough idea of the daily race schedules, which races will be shown on ITV and which races are considered to be the 'highlight' for each day.
Although the bookmakers often run offers for us to profit from throughout the day many tend to focus key offers on the first race of the day or the 'highlight' race(s) of the day. It can also be the case that certain bookies also push offers on races they're sponsoring.
By knowing the schedule you can also plan your day better for Matched Betting. This is especially useful for those working full-time and Matched Betting.
The Cheltenham Festival is such a big event in the racing world that 6 of the 7 races, on all days, will likely be shown on ITV.
Tuesday, 15th March 2022 - Champion Day
13:30 The Sky Bet Supreme Novices' Hurdle (Grade 1)
14:10 The Sporting Life Arkle Challenge Trophy Novices' Chase (Grade 1)
14:50 The Ultima Handicap Chase 
15:30 The Unibet Champion Hurdle Challenge Trophy (Grade 1) - Highlight Race
16:10 The Close Brothers Mares' Hurdle  (Grade 1)
16:50 The Boodles Juvenile Handicap Hurdle 
17:30 The National Hunt Challenge Cup Amateur Jockeys' Novices' Chase 
Wednesday, 16th March 2022 - Ladies Day
13:30 The Ballymore Novices' Hurdle (Grade 1)
14:10 The Brown Advisory Novices' Chase (Grade 1)
14:50 The Coral Cup Handicap Hurdle 
15:30 Betway Queen Mother Champion Chase (Grade 1) - Highlight Race
16:10 The Glenfarclas Chase (A Cross Country Chase)
16:50 The Johnny Henderson Grand Annual Challenge Cup Handicap Chase 
17:30 The Weatherbys Champion Bumper (A Standard Open National Hunt Flat Race) (Grade 1)
Thursday, 17th March 2022 - St Patrick's Thursday
13:30 The Turners Novices' Chase (Grade 1)
14:10 The Pertemps Network Final Handicap Hurdle 
14:50 The Ryanair Chase (Grade 1) - Highlight Race
15:30 The Paddy Power Stayers' Hurdle (Grade 1) - Highlight Race
16:10 The Magners Plate Handicap Chase 
16:50 The Jack de Bromhead Mares Novices' Hurdle
17:30 Fulke Walwyn Kim Muir Challenge Cup (sponsored by the JRL Group) Handicap Steeple Chase 
Friday, 18th March 2022 - Gold Cup Day - Highlight Day!
13:30 The JCB Triumph Hurdle (Grade 1)
14:10 The McCoy Contractors County Handicap Hurdle 
14:50 The Albert Bartlett Novices' Hurdle (Grade 1)
15:30 The Boodles Cheltenham GOLD CUP Chase (Grade 1) - The BIGGEST Highlight Race of the Festival
16:10 The St. James's Place Festival Challenge Cup Open Hunters' Chase
16:50 The Mrs Paddy Power Mares' Chase (Registered As The Liberthine Mares' Chase) (Grade 2)
17:30 Martin Pipe Conditional Jockeys' Handicap Hurdle
---
TIP 2 - Don't miss out on a single offer!
Warning!
**CHELTENHAM INDEX OFFER LINKS WILL BE LIVE EVENING BEFORE EACH RACE DAY**
Missed offers mean missed profits - be sure not to miss out on anything.
There will be a lot going on over the 4 days of the festival. To be certain you don't miss a thing, we recommend doing all of the following...
1) Bookmark the Daily Cheltenham Reload Offer Index Pages 

This can save you so much time! All you need to do is open each of the pages listed below right now and save them to your bookmark bar on your browser:
(**LINKS LIVE EVENING BEFORE EACH RACE DAY**)
Cheltenham Day 1 Index: An index of offers for Day 1 of the festival (live from 8th March)
Cheltenham Day 2 Index: An index of offers for Day 2 of the festival (will go live evening of the 15th March)
Cheltenham Day 3 Index: An index of offers for Day 3 of the festival (will go live evening of the 16th March)
Cheltenham Day 4 Index: An index of offers for Day 4 of the festival (will go live evening of the 17th March)
For each day of the festival you can then directly get to the main list of available offers in seconds.
As each day ends you can also remove them off your bookmark bar.

2) Check your emails and texts regularly throughout the day:
Watch out for private or invite-only offers from the bookies coming directly to you. They can sometimes send them just an hour or so before a specific race so it can be worthwhile checking for these throughout the day when you have a minute or two spare.
If you receive this type of offer during Cheltenham (or any other time too!) and you're not sure if it's worthwhile doing or not - the best place to ask is in the forum on the topic "Sports - Is this offer worth doing?".
If you receive this type of offer and you know it's worth doing and have not already seen it anywhere on Outplayed then also don't forget to let other members know in case they got it too. You can do this in the forum in the "Offers posted by members section".
3) Follow the OffersTeamOP on the Forum:
This is essential for making top profits from reloads and we highly recommend doing it if you're not doing so already.
How do you do this?
Open the forum then go to 'OffersTeamOP' here
Then click the green plus sign to follow the team and you'll see every offer that they post in the forum and get a notification pop up each time they do.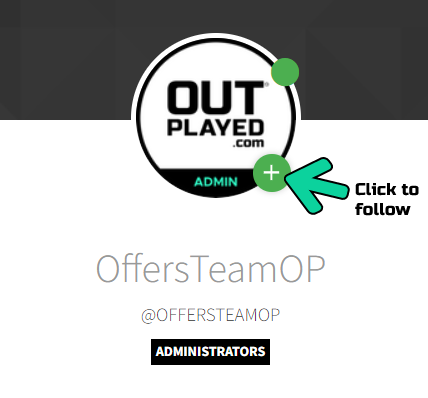 4) 'Watch' the following Forum threads:

Another essential really!
The topics we recommend to watch for great profits over Cheltenham include:
How do you watch a topic?
By selecting the 'Not Watching' button on the topic and switching it to 'Watching'
You will then get notifications pop up every time there is a new post in that topic.
Here's an example of notifications coming from the Price Boost topic:
---
TIP 3 - Make sure you're 0% commission is active
At Smarkets and Matchbook (if eligible)
We already mentioned this in the 'How to Prepare for Cheltenham' article - but this is so vitally important to do it's worth us mentioning it again!
If you haven't already please follow this guide to get 0% commission at Smarkets.
If you haven't signed up to Matchbook yet, follow this guide here to get 0% commission there too.
---
TIP 4 - Stick to what you know and can do well
Don't be tempted to jump in on the more advanced offers too soon
We all know experienced members will be smashing the Extra Places out over the Cheltenham Festival and you will undoubtedly see members sharing their 'EP Booms' when their horses hit and make them potentially hundreds of pounds in one go.
If you have not already been practicing Extra Place Offers before Cheltenham and read ALL the guides and tips on how to do them, at this point in time, so near the start of the festival don't decide to suddenly start trying to do them. Although highly profitable they are an advanced type of Matched Betting offer and need a fair bit of time to learn and master.
They are profitable to do all year round - so you really don't need to feel like you're missing out by not doing them. You can learn them later once you're experienced with other horse racing offers and then be ready to smash them as an experienced member at next year's Cheltenham instead.
---
TIP 5 - Keep calm and enjoy it!
Cheer those horses to come in 2nd, 3rd or 4th! :)
If you're hitting the horse racing refund offers (also known as the Money Back if X Offers) or similar do try to find the time to share with the community on Facebook which horse you're cheering on to place so you can get your free bet!
One of the best things about Matched Betting is that it can often be fun too - so don't forget that!
To avoid making any mistakes and/or stressing yourself out unnecessarily we do recommend that you get familiar with what to do if you have an unmatched/partially matched bet and also practice using the Fixabet calculator. If you do go astray though don't forget you have our entire support team plus thousands of experienced members all here to help you anytime via the Forum and our Facebook Group.
---
Need a helping hand with Matched Betting at Cheltenham?
JOIN OUR MATCHED BETTING FACEBOOK COMMUNITY
Our Facebook Group, which has over 50,000 members, is a great place to ask for help and ask questions, especially if you are new to Matched Betting. 
Alternatively you can also contact us directly for support too.
---
Interested in Getting Started Matched Betting?
You can start learning for free with our free trial and make your first profits.
MATCHED BETTING FREE TRIAL WITH OUTPLAYED
---
Matched Betting is not an alternative to employment or a solution to financial concerns. Profits can vary dramatically based on time and effort.